Once again Thanksgiving has come and passed, so it´s time for Black Friday 2020! 
As has now become tradition since drones have become a mainstream product, this is the time of year when you'll probably get the best deals on drones possible.
If you've been saving up for the right moment to get the drone of your dreams, this is almost certainly the right time to pull the trigger.
Even better, you don't have to pitch a tent in front of a freezing storefront to take advantage of these Black Friday drone deals.
You can order your Black Friday drone special from the warm comfort of your own home, since these specials are all online!
Here are the Best Black Friday Drone Deals of 2020
We were pleased to discover that DJI is once again hosting a Black Friday sale with discounts up to 46% off.
Today, we're covering the drones that really jumped out at us. Let's dive in.
The impressive Mavic Mini is currently on sale for $359, down from $399.
The main feature of the Mini may be that it's small and ultralight. It can easily fit in many pockets and most purses, making it extremely portable.
It boasts 30 minutes of flight time and several pre-programmed flight modes to help you get an easy, amazing shot.
The 3-axis gimbal keeps things ultra-stable while you fly.
This drone is made for people who want to get amazing shots without having to become a master drone pilot.
The Mavic Air 2 comes with a variety of options. Only the Mavic Air 2 Fly More Combo & DJI Care Refresh is on sale, giving you a discount of $18.
The foldable and portable Mavic Air 2 seems to be able to do it all.
It has a 48 MP camera for still shots and is able to shoot in 8K hyperlapse. It also has automatic color optimization to provide vibrant stills.
If photos aren't really your thing, it also has a 4K video camera able to shoot up to 240 FPS, meaning you can do extreme slow-motion shots.
It also boasts 34 mins in the air, the longest ever for the Mavic series.
When it comes to flying, the focus track feature lets you pick a target and it'll follow it.
There's even automatic obstacle avoidance.
With a normal sticker price of $1,599, the sale drops the purchase price down to $1,519. You can use your savings to buy a 128 GB SD card, if you don't have one.
The Phantom 4 Pro V2 is widely regarded as one of the best drone on the market.
Fitted with a 4K camera capable of shooting in 60 FPS, you can get some amazing shots and then slow them down to 30 FPS in post-production to get awesome slow motion. It also boasts a 20 MP camera, meaning it will absolutely capture everything it sees.
It's heavier than most drones, but it can still fly for up to 30 minutes at a time. It also features 5 directions of obstacle sensing, so even if your flight skills are lacking, it'll have you covered.
This beginner drone is great for indoors, but it can fly just fine outside too.
It can shoot photos and videos, shoot in 360 and even respond to custom programs.
It works with a gaming handset and even has VR compatibility.
It's a perfect option for someone who wants to get their feet wet in the drone world.
The Tello Boost Combo is currently going for $135, down from $164. You can even put your savings into a second battery!
This particular option isn't a flying drone, but it's worth mentioning.
This build-your-own remote-control car is intended as a fun and educational option for kids and teens.
After your kids assemble their vehicle, it can be controlled with a smartphone, coded to do specific tasks and run courses, and even battle other Robomasters.
The Robomaster S1 is a departure from what DJI typically makes, but it's a welcomed one. It's currently running at $449, down from $549. That's a hefty savings!
This is the only drone on this list that's not on sale, but we thought it was worth mentioning. It's the latest drone by DJI and it's well worth the sticker price of $449.
It's an extremely small drone that shoots in 4K, has a quality 4x zoom and can even do precise flights synced to GPS.
It can shoot in panorama and even take quick shots in midflight. Did we mention it's small? It weighs less than 249 grams.
You can find all the DJI drone deals here: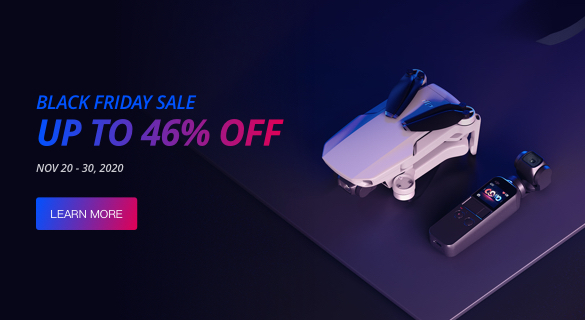 Other Great Drones to Check Out
It's not entirely a DJI party, we've also spotted some nice deals on Amazon.
We will try to keep this list updated as Black Friday and Cyber Monday week keeps running.
Best of all, these Black Friday drone deals are all online. So you won't have to fistfight an old lady trying to buy presents for her grandkids. Maybe, in the end, that's the best deal of all.
Latest posts by Jesse Young
(see all)