It's that time of the year again.
Where businesses slash their prices so that the public can empty their wallets just before stuffing their faces with turkey.
The world of drones is no different and if you've been clutching your pennies in your sweaty hands waiting for the best deals, it seems Black Friday is the time to let go Scrooge.
It's impossible to cover every possible Black Friday deal that would appeal to our drone-crazy readers, but we can certainly pick out what we think are the best deals . So without further ado it's time to get those credit cards out.
Here are the 5 Best Black Friday Drone Deals of 2018
The Mavic Air has been around for a while now, but until DJI spits out the Air 2 it's still one of the most revolutionary drones on the market.
At its usual price of $799 the diminutive Air is already an amazing value proposition. After all, it's a foldable drone with legitimately high specifications at an upper-mid range price.
What's not to love? If you've been eyeing this segment-establishing and leading drone this is a substantial saving.
Yes, there is the worry that a Mavic Air 2 will be out in the near future, but there's no real news of one yet and knowing DJI the current Air will still be sold and supported well into the life of its successor.
There's really no reason not to pull the trigger now on this Black Friday deal.
We reviewed the DJI Spark back in August 2017 and decided that we quite liked the plucky little drone.
The DJI Spark really impressed us when it first launched. This is a drone that brought features from much more expensive machines down to a whole new price point.
It's not meant for professional photography, but as a follow-me drone or holiday snapper you would be a fool to discount what's actually quite a substantial offering.
What really makes the Spark special is however its advanced autonomous flight modes. If you've ever wanted a machine that would take fawning videos and photos of you as you go about your "extreme" lifestyle or party ambitions, the Spark certainly fits the bill.
The onboard camera is quite impressive given given how small and light the Spark is . The gimbal system is limited to just two axes, but the sensor quality is phenomenal for the money.
It's not going to replace the footage from bigger more professional drones, but you certainly never have to be ashamed of sharing any of the imagery with the public.
The Spark is an impressive little machine that squeezes the most important technological lessons learned by DJI over the years into single, compact drone that makes it practical to always have a flying camera with you.
This Black Friday, DJI are knocking just over 10% from the usual asking price for the controller combo. It's well worth getting the Spark with manual controls and now is the cheapest time to do it.
The Tello is an interesting product. While DJI sells it, they aren't responsible for the actual hardware. Instead, this is a drone built by a third-party and then enhanced with DJI software. The end result is an entry-level drone with some seriously impressive abilities.
It's also an excellent drone for tinkering on the cheap, since it includes the tools to reprogram it for custom applications. With just over $20 taken off the price, the $79 Black Friday drone deal makes this the ultimate stocking filler.
The Tello is a very popular product, so it really is surprising that such a big chunk has been slashed from the retail price this Black Friday. It's very unlikely that you'll see it for this little again soon.
The recently launched Mavic 2 drones are without a doubt the best consumer-grade drones you can buy right now.
Given that this is a brand new product, it's unsurprising that DJI isn't cutting prices on these beauties quite yet. However this Black Friday they are offering substantial discounts on the Mavic 2 Fly More kit. A whopping $205 discount on a bundle that was already cheaper than buying all the bits separately. If you own a Mavic 2 or want to buy one now, that's well worth looking into.
DJI are also offering a bundle that combines the Mavic 2 and the latest DJI Goggles Racing Edition. It's only a $100 saving, but if you want it now is the time to get it.
Yes, this looks like a DJI-only party, but industry veterans Parrot also have a nice surprise for us. The Bebop 2 FPV is a great little entry-level FPV drone.
It has a decent camera, but that's not the main focus of this affordable drone. Instead it gives us a well-priced, quality FPV experience for those new to flying in first-person.
Even without the FPV elements, it's a great low-mid drone for those who just want to fly.
Amazon also has lots of other Black Friday offers we found for you at the bottom of the post.
Saving for a Rainy Day
Discounts on popular drones are rare because the sell so well at normal retail prices. Which means you should really take advantage of price drops like these while the Black Friday hype is still fresh.
You can find all the DJI drone deals here: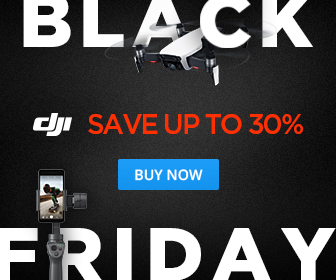 Best of all, these Black Friday drone deals are all online. So you won't have to fistfight an old lady trying to buy presents for her grandkids. Maybe, in the end, that's the best deal of all.
The starting date for the DJI Black Friday promotion varies a bit depending on your location. In North America it starts the 18th November.
DJI will be running this promotion until  27 November, 11:59pm (UTC-8).
Here are some more interesting drone deals we dug up:
Sydney Butler is a prolific technology writer with a knack for digital gadgets and a love of flying things. He's been messing with tech since the early 90s and dreams of the day that quadcopter hoverbike finally goes on sale.
Latest posts by Sydney Butler (see all)