Once again Thanksgiving has come and passed, so it´s time for Black Friday 2019 ! 
As has now become tradition since drones have become a mainstream product, this is the time of year when you'll probably get the best deals on drones possible .
If you've been saving up for the right moment to get the drone of your dreams, this is almost certainly the right time to pull the trigger .
Even better, you don't have to pitch a tent in front of a freezing storefront to take advantage of these Black Friday drone deals. You can order your Black Friday drone special from the warm comfort of your own home, since these specials are all online!
Here are the Best Black Friday Drone Deals of 2019
DJI is flexing its muscles this year and slashing prices on some of its most popular mainstream products. The black Friday drone specials are truly good, but there's also plenty of drone-adjacent goodies that might whet your appetite if you're already kitted to the hilt with drones already. We'll start with the main course.
We really, really liked the Mavic Pro 2 and it seems that's a sentiment almost everyone shares, so it's good to see that DJI is slashing arguably their best drone from $1729 to $1379.
Unfortunately the (arguably more versatile) Mavic 2 Zoom isn't part of any official DJI deal, but if you can live without its fancier optics this is the drone to get.
Now, on the complete opposite end of the drone range, we have the Tello. A drone that isn't made by DJI, but has a DJI brain at its core. It's a neat little machine that's not only a pretty impressive machine-vision powered drone in its own right, but also a machine you can program yourself.
It's already pretty affordable, but for Black Friday, DJI are taking it from $99 down to $79. Alternatively, you could spring for the Iron Man edition of the Tello, which usually goes for $129, but will be on special for $89. That's a great deal, but do remember that the Tello doesn't come with a dedicated controller in the box!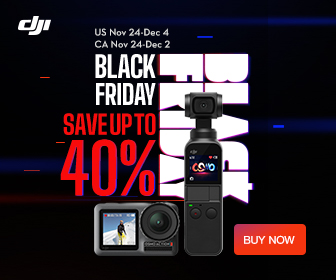 DJI have realized that their camera gimbal technology and machine vision software tracking can be used on the ground just as well as in the sky. While cameras gimbals have been pretty expensive in the past, you can get something from DJI that will instantly transform your shaky shots into something that looks incredibly cinematic.
The Osmo Pocket is an all-in-one solution that has a camera and gimbal on-board. Usually it sells for $399, but for Black Friday you can pick one up from the DJI store for only $309.
If you don't have room for a physical gimbal, they're also cutting the price on the Osmo Action, which is DJI's answer to the GoPro. It's claim to fame is exceptional image stabilization, with 4K HDR video recording on offer as well. It's cut from $379 to $279.
If you're a more serious creator, DJI haven't left you out either. They've brought their Ronin-S professional gimbal system down to earth as well. Mount the DSLR of your choice (under 3.6kg) and make the next cinematic blockbuster. Usually this kit would cost $749, but for Black Friday you can own it for  $629.
DJI don't quite seem ready to give us a price cut on their fairly recent DJI FPV goggles, but they have provided a nice Black Friday deal on the "Racing Edition" of their (also excellent) DJI Goggles. With high-res screens and head-tracking control of your drone camera (with supported models) it's a pretty awesome way to fly. The price of this special edition is getting a trim for Black Friday, going from from $549 to $449.
The Mavic Mini is the hottest new drone in the DJI stable, which is probably why it's no surprise that the company isn't offering any discounts on it for this Black Friday. After all, if you'd bought it at launch, you might be more than a little irritated if it was discounted just weeks later.
That doesn't mean you should ignore it though. This is still one of the best drone deals, even at retail price. The Mavic Mini rewrites what a drone in this price class can do, which is something you should keep in mind if you see any other brands cut their drones into the Mavic Mini range.
It's got a 2.7K video sensor, a true 3-axis gimbal and, most importantly, a gross weight of 249g. That's exactly 1g under the limit for drone registration in many parts of the world, including the USA. It might be cheeky, but it means this smartphone-sized drone makes for an excellent global travel companion and it's footage, while not professional-grade, is nothing to be sniffed at. With a little post-production treatment we won't be surprised if some Mavic Mini footage makes it into film and TV production at some point.
You can get it for $399 at DJI:s official website.
Other Great Drones to Check Out
It's not entirely a DJI party, we've also spotted some nice deals for two of Holy Stone's nicer drone models. The company might not be standing toe-to-toe with the likes of DJI, but Holy Stone has been providing decent budget drone options for years.
The Holy Stone HS120D comes in a design close to the original Phantom, though not in size and weight. Packing a 120-degree, 1080p camera with an adjustable field of view, the price is even sweeter. It's small and light drone tipping the scale at only 250g, which should also avoid registration in applicable regions. There's GPS-assisted flight, object tracking and custom flight paths. Pretty amazing for such an affordable machine.
Finally, we have the Holy Stone HS720. It's a foldable drone in the vein of the Mavic Air and it comes with a 2K camera and GPS-assisted flight. It's got the essential "follow me" mode and optical positioning in case the GPS signal is wonky. A good deal for the price!
You can find all the DJI drone deals here: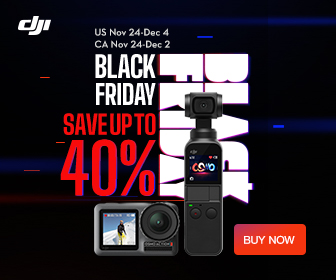 Best of all, these Black Friday drone deals are all online. So you won't have to fistfight an old lady trying to buy presents for her grandkids. Maybe, in the end, that's the best deal of all.
The starting date for the DJI Black Friday promotion varies a bit depending on your location. In North America it starts the 24th November.
DJI will be running this promotion until  December 4 in the US (December 2 in Canada)
Latest posts by Sydney Butler
(see all)